Black Lives Matter. 
As we stand in solidarity with all who are working for racial justice, we offer a sampling of words and music from some of our Sing Me Home musicians and speakers who are sharing courageously and poignantly in this time. 
Abdul El-Sayed - "These protests are necessary—but they shouldn't be. If we believed #BlackLivesMatter in our society, we would have fundamentally reformed our systems to value Black lives a long time ago without the need for massive, nationwide protests." 
Drew G. I. Hart - "For centuries white supremacy has been entangled into the formation of mainstream Christians. For centuries, white Christians have been complicit bystanders, if not active perpetrators in our racist systems that oppress, humiliate, and too often kill people made in the image of God. The whole church must intentionally make a break with these death-dealing cycles that vandalize the sacred name of Jesus. Christian discipleship must be explicitly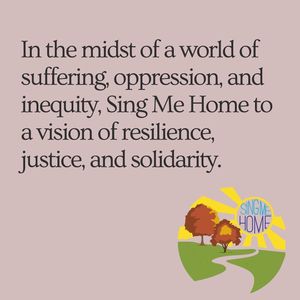 antiracist, refusing to conform to these racist patterns." 
Holly T. Bird - "We are creating pockets of love where BIPOC relatives can feel safe and free of racism and oppression." 
Carrie Newcomer - "We are living in a time of uncertainty, navigating the grief of loss and a changing world. We are also living in a time of possiblity, before us is a clear opening and invitation, a moment when we might truly embrace becoming the beloved community. There is a spirit moving in the world and within the human heart. Have courage my friends, love is still the greatest power, and you are part of a gathered community that transcends the miles." 
The Steel Wheels - "As musicians, our most important job is listening. A band's energy comes from the ability of its members to respond to each other, incorporating new ideas in real time as they use their unique voices to compliment each other. But, over the years, we have attempted to take part in a much deeper kind of listening. We want to keep our eyes and ears open to all the grief, joy, oppression, and freedom that make up our human experience, and hopefully reflect it back to our audience with some amount of integrity. We sing songs that speak to this complexity, and most poignantly, explore the tension between tradition and progress. We have always sought to value what came before, but truly examine it and be willing to throw out the parts that are hurtful or no longer useful to us as a people... We are grateful to a movement and a generation that is causing us to re-examine how we talk about race and racial justice, and how we address the causes of systemic racism. We pledge to truly listen, and to support organizations that are doing the hard work of building community." 
Seth Bernard's heartfelt invitation to white folks to step further into the work of dismantling structural racism -
Amber Hasan's new music video for "NO FILTER" (warning - explicit language)
Joshua Davis' "Protest songs" concert
The Accidentals' powerful response to "shut up & sing"
Carrie Newcomer's "You Can Do This Hard Thing" Community Project
Mondays with May Erlewine - each Monday at 7pm
Joe Reilly's last children's show of the school year
Additional resources: 
Scaffolded Anti-Racist Resources
Anti-racism resources for white people
"Why The Small Protests In Small Towns Across America Matter"
For those who live in the North Manchester, IN area (future home of in-person Sing Me Home gatherings), there will be a "Silent No More" anti-racism event this Sunday, June 14 at 4pm. More details on the Manchester Church of the Brethren page.