music. social justice. spirituality.
The Sing Me Home mission: An intergenerational cultural celebration emerging at the crossroads of music, social justice, and spirituality. Serving to restore and inspire the heart, mind, and soul. 
We are thrilled to announce the updated lineup for Sing Me Home 2023! We look forward to seeing you on September 30 in North Manchester, IN for this FREE family-friendly cultural celebration featuring live music, local food, and much more! 
The event is FREE and no registration is required to attend the majority of the day which will be outside on the gorgeous festival grounds hosted by Manchester Church of the Brethren. A RSVP is required to reserve a seat for the featured indoors evening program featuring Jordan Hamilton, Miami Nation of Indiana tribal council member Erin Oliver, and Carrie Newcomer with Gary Walters and the Gathering of Spirits String Quartet. Reserve your seat(s) today!
If you'd like to see a text only version of the schedule, visit our Facebook event or schedule blog post.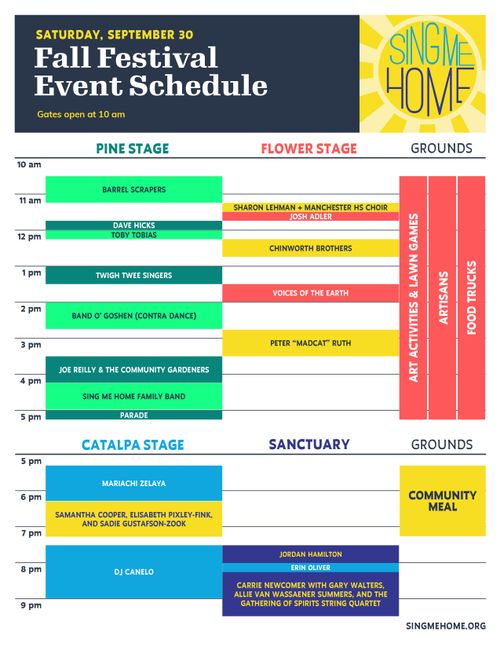 We depend on community support to ensure our ability to offer continued programming that is affordable and accessible for our community. 
Make a tax-deductible donation in support of future Sing Me Home programming. Thank you!
We look forward to building upon an inspiring first year of in-person Sing Me Home in 2022 with another year of live music, local food, engaging workshops, activities for all ages, and much more!
Interested in volunteering?
Interested in donating to keep Sing Me Home affordable and accessible to all?
Interested in being a Sing Me Home sponsor?