The Sing Me Home 2023 Official Schedule is here! Check it out and make your plans to join us for September 30th or a full day of inspiring music, tasty local food, and fun for the whole family. The day's festivities are FREE but an RSVP is required to reserve a seat for the evening program that will be indoors. We do recommend you bring some $ to enjoy local food trucks and to take home some merchandise from your favorite artists!

A couple key notes on the schedule:

1. We are excited to announce some new additions to the lineup that will be featured in the 10:30am - 1pm Hometown Showcase featuring the Barrel Scrapers and the Chinworth Brothers. We're excited to also welcome Sharon Lehman and some of her Manchester High School choral students, Manchester University Freshman guitarist/singer-songwriter Josh Adler, local bluesman & Manchester University Professor Emeritus of Biology Dave Hicks, and local rocker Toby Tobias!

2. The Pine Stage & Flower Stage are both located in the main festival grounds area so all you will have to do to enjoy both stages is turn around!

3. If you'd like to see a text only schedule, see below.

Many thanks to Ashley Mock of AM Creative Studio for the schedule graphic!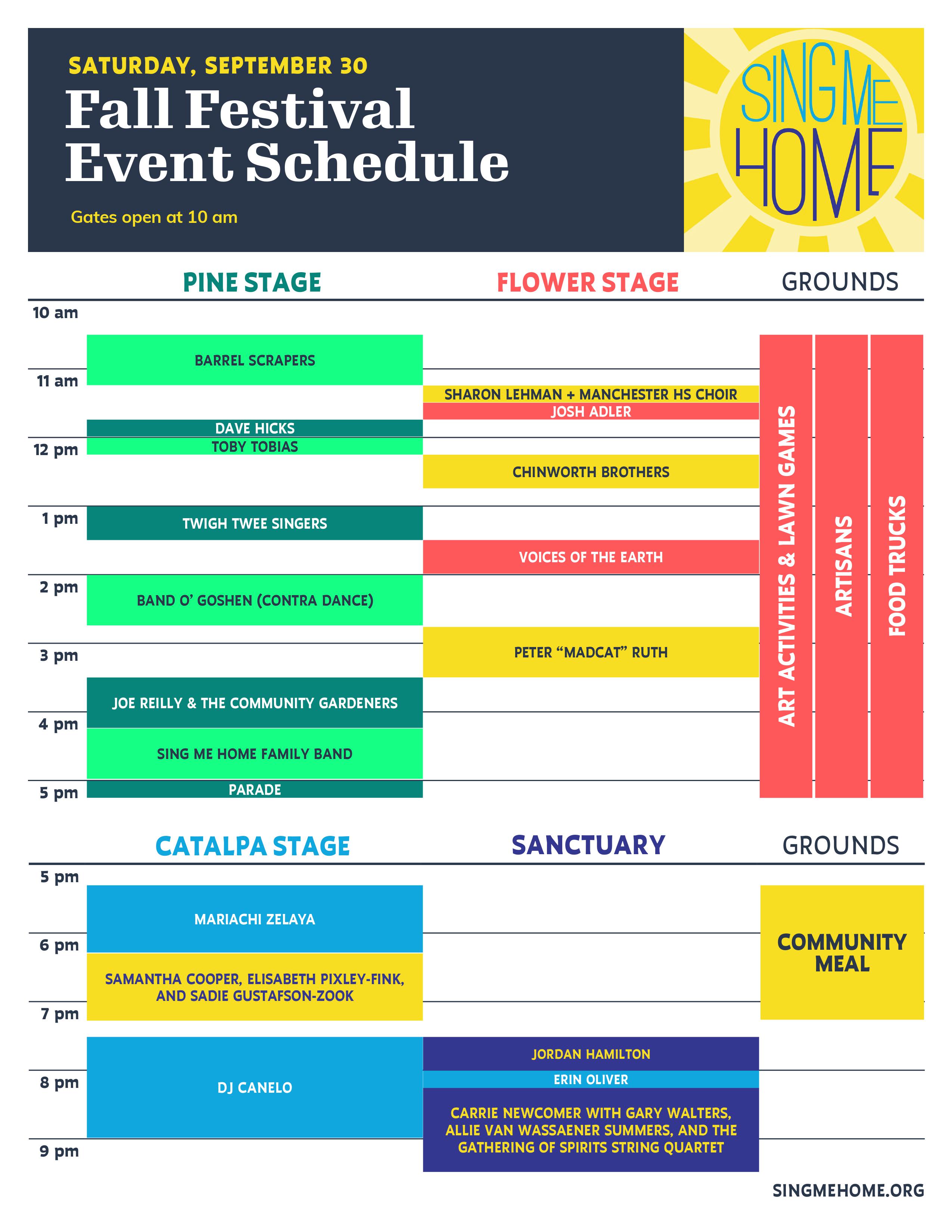 10:30am The Barrel Scrapers 
11:15am Sharon Lehman & Manchester HS choir members 
11:30am Josh Adler 
11:45am Dave Hicks 
12:00pm Toby Tobias 
12:15pm Brothers Chinworth 
1:00pm Twigh Twee Singers 
1:30pm Voices of the Earth 
2:00pm Band O' Goshen (contra dance) 
2:45pm Peter "Madcat" Ruth 
3:30pm Joe Reilly & The Community Gardeners 
4:15pm The Sing Me Home Family Band
5:15pm Mariachi Zelaya 
6:15pm Elisabeth Pixley-Fink, Samantha Cooper, Sadie Gustafson-Zook 
7:30pm DJ Canelo 
7:30pm Jordan Hamilton 
8:00pm Erin Oliver 
8:15pm Carrie Newcomer with Gary Walters & The Gathering of Spirits String Quartet